Say Goodbye to Clutter, Hello to Space
When it comes to removing junk from your home or another residential building, Brown Box Movers is here to help. Our crew is available for trash removal services in North Texas, including furniture removal and junk appliance removal.
Furniture Removal
At Brown Box Movers, we can assist you with getting rid of old or unwanted furniture from your home. Instead of hauling this furniture to a junkyard on your own, you can rely on our crew to pick it up and handle it for you. Our crew has the equipment needed to move large pieces of furniture off your property, making it easier for you to pack up your home for moving. From sofas and bedroom sets to side tables and other smaller pieces of furniture, we can save you the hassle of having to move them on your own.
Junk Pickup and Junk Hauling
Piles of junk can build up in and around your home, causing unsightly messes and making it more difficult to prepare for a move. When you have piles of junk that you need to get rid of, you can depend on Brown Box Movers in North Texas to pick it all up and haul it away for you. Our junk pickup and junk hauling services provide you with a convenient way to eliminate unwanted items in your home. Just let us know how much junk you need us to pick up and if there are any big or overly large items that you need us to haul away. This information allows us to provide an estimate on how much these services will cost and how long it should take for us to do our job.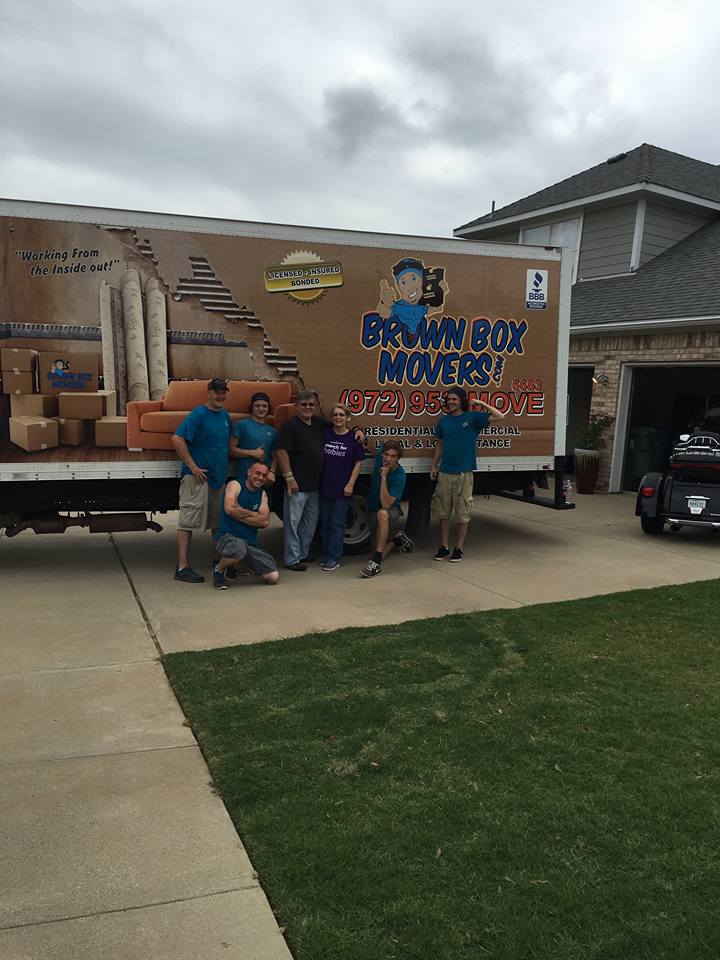 Get a Free Junk Removal Estimate
Junk Appliance Removal
When you have an old or broken refrigerator, washer, dryer, stove, or dishwasher that needs to be removed from your home, Brown Box Movers can handle this task for you. You can count on our crew to safely remove these appliances from your property, so you don't have to attempt to haul them out yourself or make arrangements with appliance repair companies to remove them for you at a steep cost. When you depend on us to remove your junk appliances, you don't have to worry about hiring a truck on your own to take these items to your local junkyard. Our crew takes care of the entire removal process. If you're getting rid of junk appliances due to an upcoming move, have us handle this so the moving process is easier for you.
Trash Removal
Whether you're cleaning out your home for an upcoming move or just need to make more space for storage, it's surprising how quickly you end up with piles or bags of trash. Getting rid of this trash can become a time-consuming task that requires a lot of heavy lifting. When you have a large volume of trash that you need removed, Brown Box Movers can help you out by removing all of your junk or trash for you, which saves you from any heavy lifting and any wasted time.
Junk Removal Prices
Our junk removal prices depend on a number of factors, such as the amount of junk you need removed and the kinds of items you're getting rid of. For example, larger or bulkier items, such as sofas or appliances, typically cost more to remove than smaller items. The prices we charge for our junk removal service also depend on whether or not you're having us do any cleaning, such as a total yard cleanup, garage clean out, apartment clean out, or rental home clean out. Please contact us about the services you need, so we can provide you with an estimate.
If you're looking for trash removal in Denton or other parts of North Texas, give Brown Box Movers a call for more information. Whether you have old furniture, broken appliances, or piles of junk to get rid of, our crew can handle it for you. Contact us to schedule junk removal services, and we will give you an estimate that fits your budget.