Moving Services Take the Stress out of Moving Refrigerators (and Other Large Items)
Whether you're moving your refrigerator across town or simply across the house, you may feel daunted by the task. We understand. Everything from packing up small essentials in preparation for a major household move to simply shifting kitchen appliances around the house can create stress.  Fortunately, you don't have to face the stress alone. We're here to help you prepare. Especially when it comes to moving refrigerators and other large items.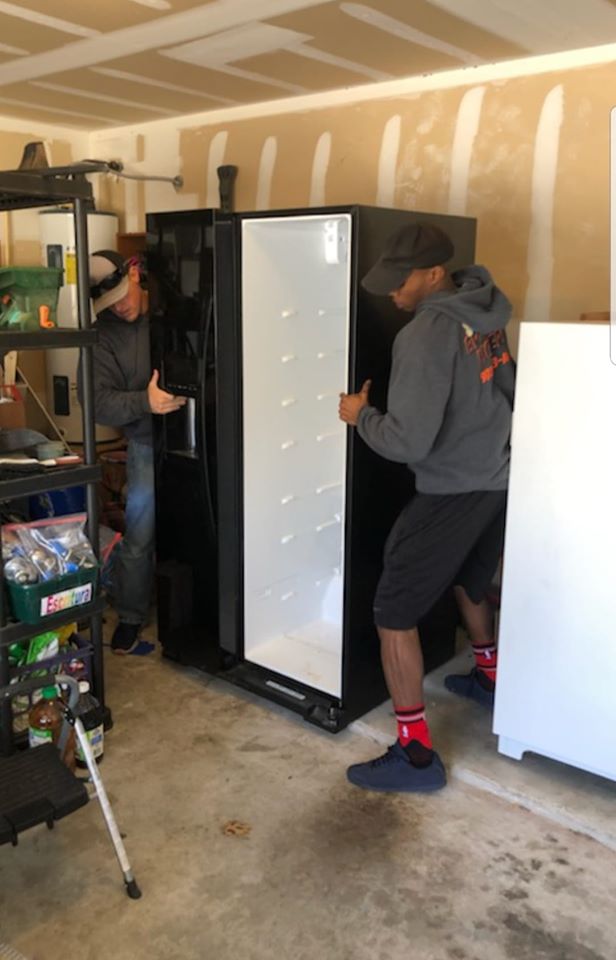 Multi-Step Process
If you want to attempt it by yourself, moving your refrigerator will be a multi-step process.
Empty and Clean. Kitchens are riddled with opportunities for bacteria to multiply and grow. The perishables stored in refrigerators are a big part of that. Washing the shelves and drawers, wiping the interior, and scrubbing down the exterior of your fridge vastly reduces the chances of bacterial cross-contamination during your move.
Wrap, Tie, and/or Tuck. Depending on the make and model of your fridge, you will want to consider wrapping it in plastic before the move. This is true particularly if it's stainless steel. Not only will plastic wrap reduce the danger of scrapes, scratches, or incidental damage, but a tight wrap can keep the electrical cord out of the way and keep the doors from flying open.
Plan Your Path. Whether you're moving your refrigerator near or far, you will want to plan a path in advance. Walk the projected route, thinking through any potential hazards and how you will deal with them. If necessary, remove pictures hanging on the walls, shift throw rugs to the side, cover hardwood floors or delicate tile with rubber mats, and so forth.
Special Considerations
In many ways, your planned path will determine what supplies you will need.  This is especially true if you will need to negotiate stairs along the way.  In order for refrigerators to be moved safely up and down staircases, you will need a specific plan so that you do not injure yourself, endanger others, or create incidental damage.  Fortunately, you don't need to go it alone.
We Can Help
Here at Brown Box Movers, we're ready and willing to take care of the heavy lifting for you.  To hear more about how we can take the stress out of moving your refrigerator (and any other large items), please feel free to contact us at any time.