Apartment Moving Tips to Ensure a Pleasant Moving Experience
Moving can be an exciting event in your life. Perhaps you're upgrading to a better apartment, or maybe you're moving to a better location with beautiful views, but no matter how exciting moving is it will still be stressful. Packing up everything you own into boxes is time-consuming and annoying. Then, when moving day arrives, it's a long, drawn-out process followed by hours of trying to find specific items that have been tucked away in a box that's buried beneath other boxes. However, the process will go much smoother if you plan ahead and follow a few helpful apartment moving tips from your neighborhood moving company.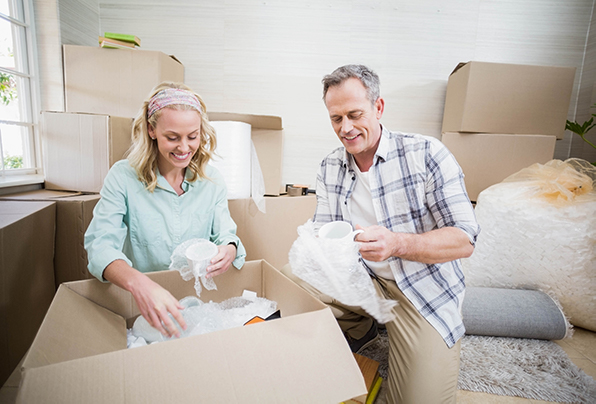 Pack Your Essentials in an Overnight Bag
After a long day of moving you probably want to take a break before you start unboxing everything you own. The only thing that would prevent you from enjoying that much-needed night of relaxation is if you made the mistake of packing everything. You obviously want to pack as much as possible to make the move easier, but there are a few things you shouldn't box up. A change of clothes, toiletries, a towel for after your shower, phone chargers, and your laptop should be moved in an overnight bag so they're easy to get find. This will make the first night in your new place go a lot smoother and give you the chance to sit back and relax for a while.
Plastic Bins Instead of Boxes
In every move, there are things you won't need for weeks and things you'll need during the first few days. You need to separate these with more than just a label on a box. Make the process of finding trash bags, utensils, paper towels and other items you'll need almost immediately easier by putting these essentials in clear plastic tubs instead of cardboard boxes. It'll make spotting the container much easier and you won't have to guess at its contents. It's a real time-saver and a way to reduce the stress that comes from unpacking after a move.
Save Money 
Bubble wrap can get expensive when you start buying roll after roll of it. To save some money wrap breakables such as mugs, dishes, and glasses in clothing. Your shirts will keep your fragile items from breaking, and as a bonus, you've packed two items instead of one. This trick saves you both time and money. Just make sure you don't pack your favorite clothes in boxes you won't open for a while.
Clean Before Your Stuff Arrives
You don't want to start unpacking groceries and dishes into a dirty kitchen or put towels and a shower curtain in a dirty bathroom. If at all possible, you should stop by your new place the day before the move, or early the day of, and clean all the bathrooms and the kitchen. This will make unpacking a lot easier since you won't have to clean as you go. Plus, you'll be able to take a long hot shower after a stressful day of moving without having to clean the shower before you step in.
Following these tips will help make your move go much smoother. Hiring the right moving company is another key factor in a smooth and successful move. For high-quality moving services and a staff that goes the extra mile please contact us today. We look forward to serving you soon.