Brown Box Movers Voted Top 10 Movers in Fort Worth, Texas
Finding a reliable moving company can be a daunting task, but Great Guys Moving has made it easier than ever. With their comprehensive analysis and review of over 20,000 moving companies across the United States, they have created an unbiased and updated monthly listing featuring the best movers in every city, including Fort Worth, Texas. Brown Box Movers has recently been voted one of the top 10 movers in Fort Worth by Great Guys Moving, a testament to their dedication to exceptional service and customer satisfaction.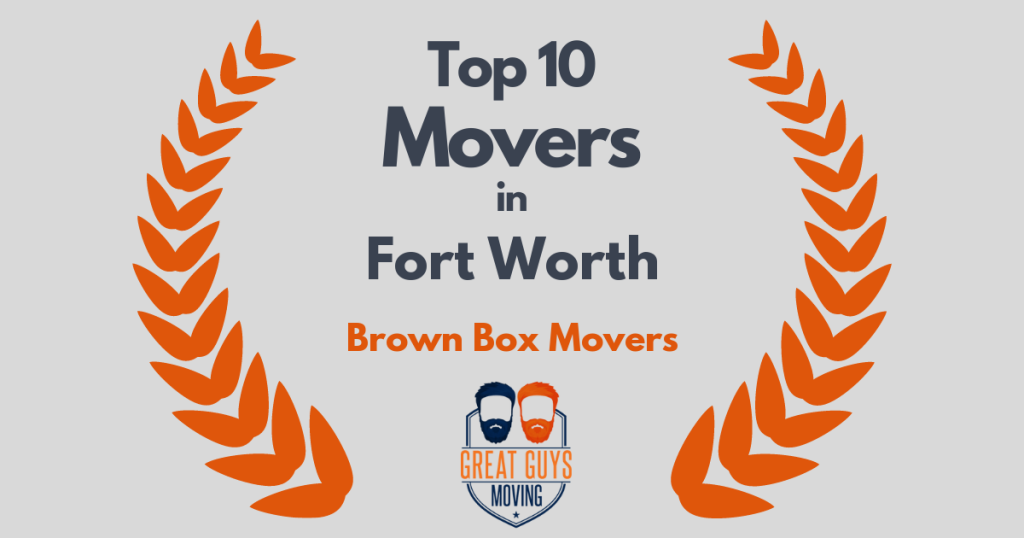 Unveiling the Best:
Great Guys Moving prides itself on its rigorous and unbiased ranking process. Unlike many other directories, their top-ranked moving companies are not sponsored or paid listings. Instead, they use a proprietary algorithm that considers more than a decade of experience in the moving industry to determine the best movers in each city. This approach ensures that only the most reliable and reputable companies, like Brown Box Movers, make it to the top of the list.
A Spotlight on Brown Box Movers:
Brown Box Movers' inclusion in the top 10 list for Fort Worth, Texas, is a remarkable achievement. It showcases their commitment to providing outstanding moving services and their dedication to meeting and exceeding customer expectations. As an independently ranked and recognized moving company, Brown Box Movers has proven their excellence in the field.
What Sets Brown Box Movers Apart:
Professionalism and Expertise: Brown Box Movers' team of experienced professionals brings a wealth of knowledge and expertise to every move. Their skilled movers handle belongings with the utmost care, ensuring a stress-free moving experience for their customers.
Customer-Centric Approach: Brown Box Movers prioritizes customer satisfaction above all else. From the initial inquiry to the final delivery, they go the extra mile to address specific needs and concerns, making the moving process as smooth and efficient as possible.
Transparent Pricing: Brown Box Movers believes in transparent pricing, with no hidden fees or surprises. Their upfront and honest pricing policy helps customers plan their budget effectively.
Wide Range of Services: Whether it's residential, commercial, or long-distance moving, Brown Box Movers offers a comprehensive range of services to cater to diverse needs. Their versatility makes them a go-to choice for various moving requirements.
Reliability and Punctuality: Brown Box Movers understands the value of time, and they pride themselves on their punctuality. Customers can trust them to arrive on schedule and complete the move promptly.
Celebrating Success:
Being recognized as one of the top 10 movers in Fort Worth, Texas, by Great Guys Moving is a significant accomplishment for Brown Box Movers. This achievement not only demonstrates their prowess in the moving industry but also highlights their dedication to delivering excellence in every aspect of their services.
Conclusion:
When it comes to moving, finding a reliable company is essential, and Great Guys Moving has made it easier with their unbiased ranking system. Brown Box Movers' inclusion in the top 10 movers list for Fort Worth is a well-deserved recognition of their commitment to exceptional service, professionalism, and customer satisfaction. So, if you're planning a move in Fort Worth, you can trust Brown Box Movers to make your relocation a smooth and stress-free experience. Looking for a moving quote? Contact us today!